The final results (click here) are now posted for the TCGA Fall Round-Up #1.
Congratulations to Team Surdey and Griffiths on a great round of 66 (-5) today, 3 shots clear of second place!

GHIN Posting
Rounds NOT posted to player's GHIN Handicap, players must do so manually.

Prizes
Pro Shop Credit prize money will be available in the Binghamton CC Pro Shop starting tomorrow. Skins money is also available for pickup during regular pro shop hours.
Remlik's Player of the Year Points
The Points List will be updated soon, the points allocation is listed on the leaderboard. If you believe you meet the eligibility requirements (click here) and did not receive points, please email [email protected]. The Fall Round Up next weekend at En-Joie will be the last event of the year!
Thank You
Special thank you to Rick Keding and the rest of Binghamton Country Club staff for hosting us today!
TCGA Fall Round-Up #2 – Sunday 10/8 En-Joie Golf Club

Registration is full, register for the waitlist to get your name down.
Register using the link above
Visit each of the event websites for more details.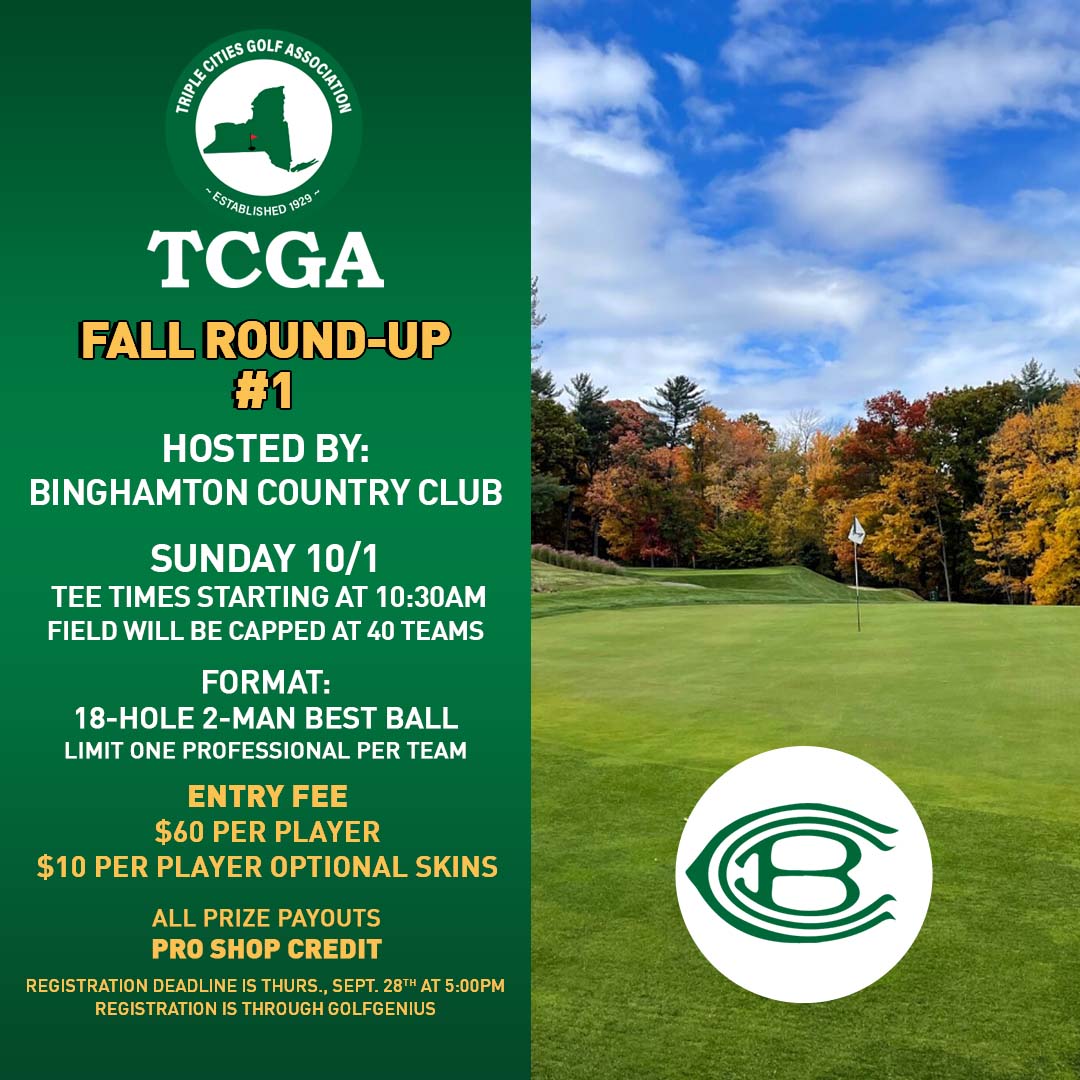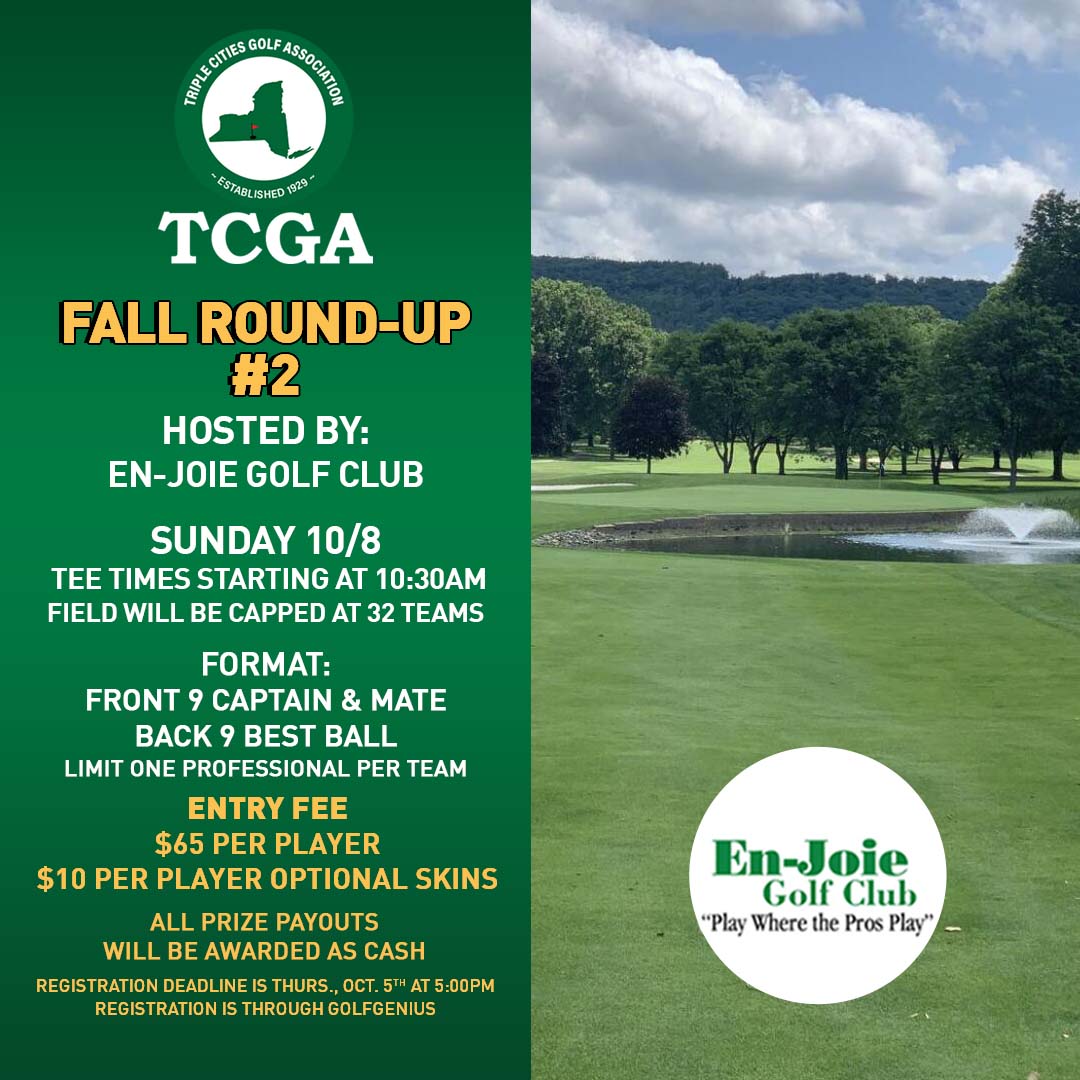 ---
2023 JKS Home Improvement TCGA Match Play
Final results from the 2023 JKS Home Improvement Match Play Championship hosted by Endwell Greens Golf Club. The players battled through some tough weather all weekend, congrats to Luke Barney on winning the Championship!

The results from the morning 9-Hole semifinal matches were as follows:

#2 Luke Barney wins 1 Up vs. #3 Nick Barney
#5 AJ Hranek wins 1 Up vs. #8 Brian Lavin

The 18-Hole Championship match and the 3rd place match ended as follows:

#3 Nick Barney wins 3 & 2 vs. #8 Brian Lavin
#2 Luke Barney wins 3 & 1 vs. #5 AJ Hranek

Congratulations to Luke on a great win!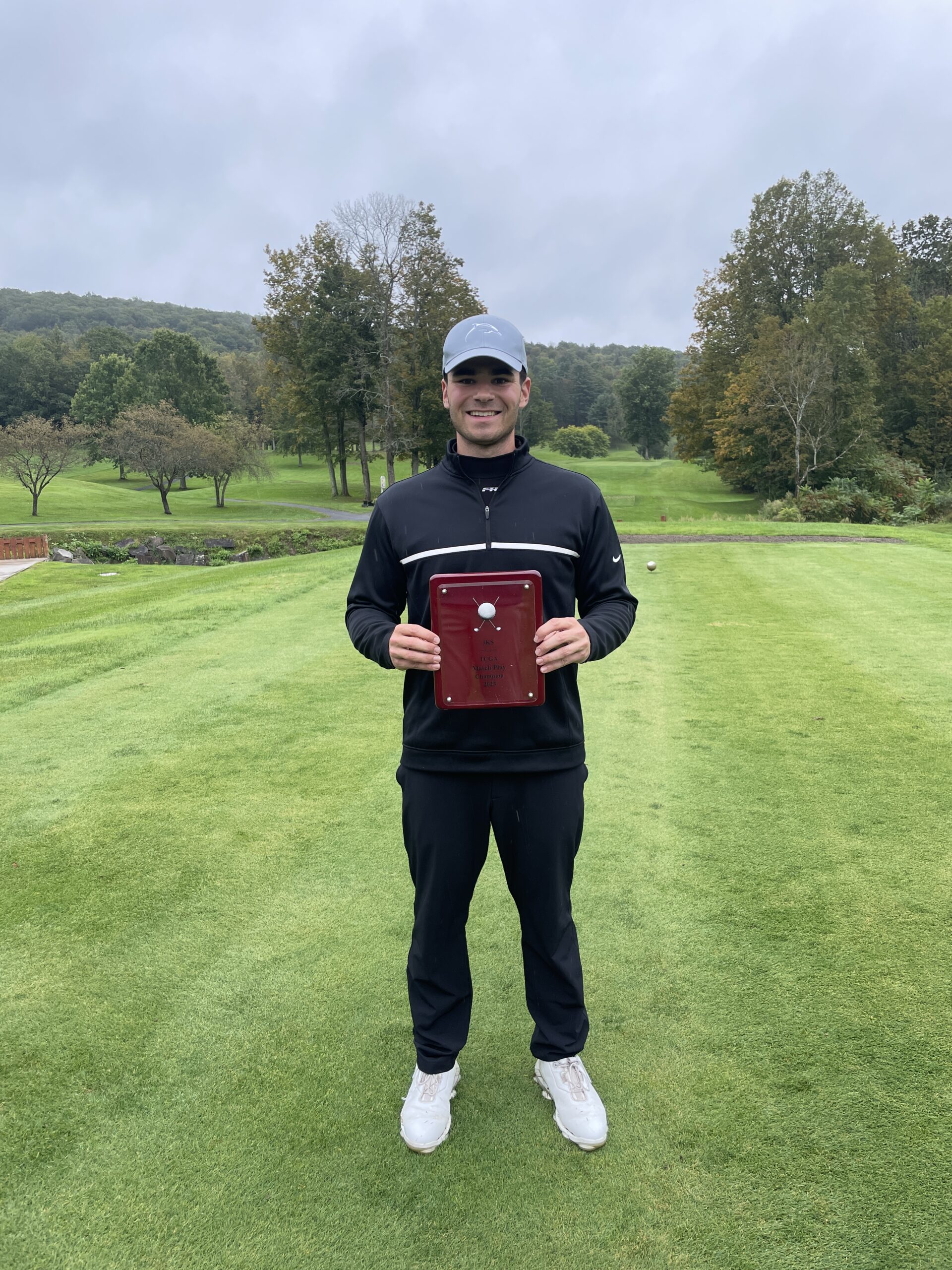 Big thank you's to JKS Home Improvement for the generous sponsorship of the event to elevate the prize purse and Endwell Greens Golf Course and their staff for hosting the event!

The Remlik's Player of the Year points have been updated with just the Fall Round-Ups remaining
---
2023 TCGA Seniors
Thank you to our participants and TCGA Senior Coordinators on another successful TCGA Senior Season! Visit the TCGA Senior Section of our website to view this year's results.
---
2023 Scoville-Meno TCGA Junior Tour
Thank you to all who made the 2023 Scoville-Meno Junior Golf Tour season a memorable one! Click the link below to read about this year's Championship.
Scoville-Meno TCGA Scholarship
Check out this year's Scoville-Meno TCGA Scholarship award recipients, Jake Karedes and Joseph Underwood! Read more about our recipients by clicking here.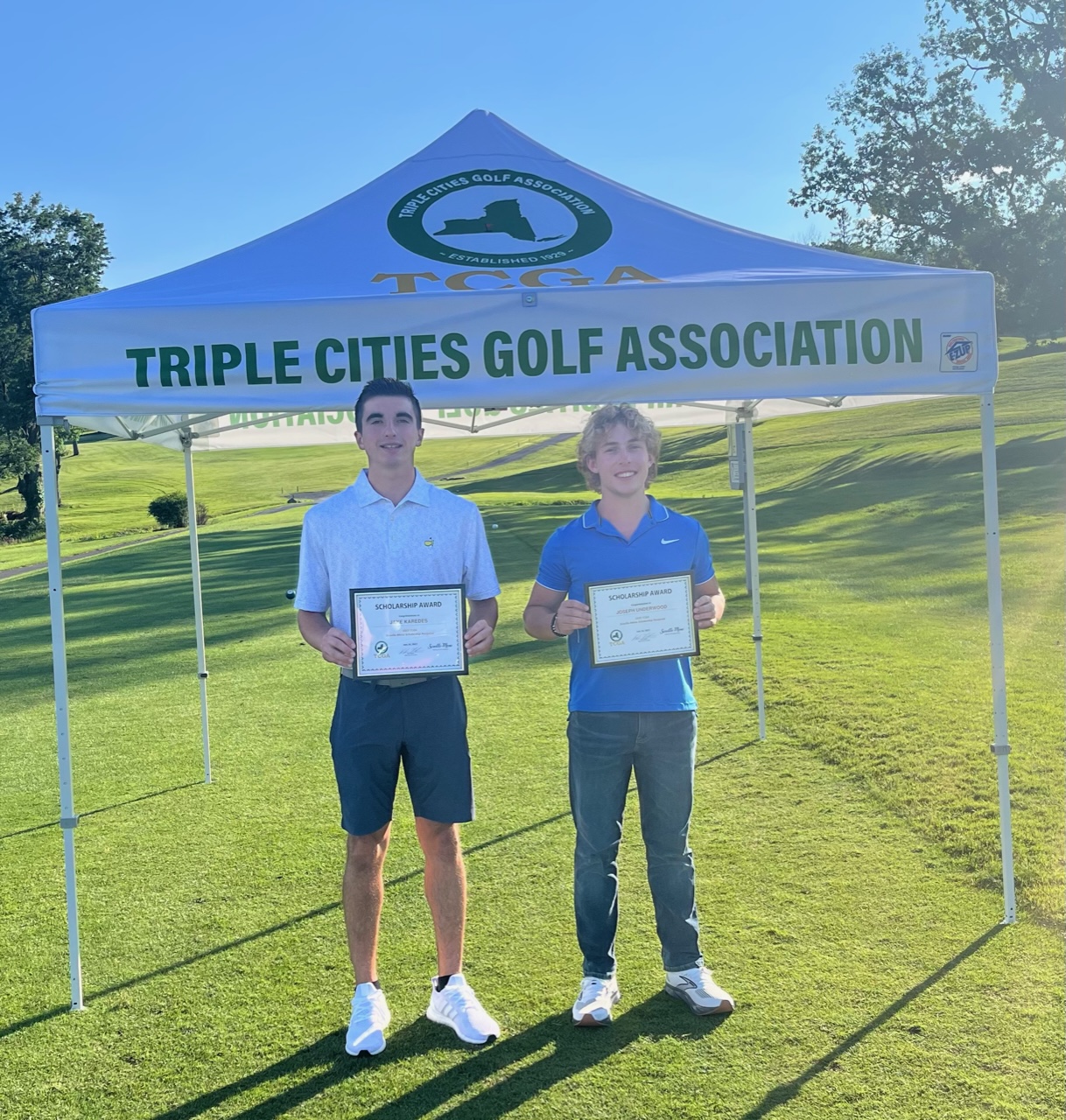 Related: 2023 Scoville-Meno TCGA Junior Tour Schedule
---
The 94th Harding Brooks Insurance Agency TCGA Amateur Championship has concluded following 54-holes of play in the Senior, Women's, and Open Division. Read about the results by clicking here.
Related: Full Leaderboard | Remlik's POY Race | Past Champions | Open Division Schedule
---
---
Don't forget to Follow @TCGAgolf1929 on Twitter, @tcgagolf on Instagram, and Join our Facebook Group for up-to-date information on all of our events!
Please email [email protected] if you have suggestions or want to help get involved for the 2022 Season!