Event page for the Belden Hills Skins Shootout Event, hosted by Belden Hills Golf Club!
Thank you Belden Hills Golf Club for hosting the Beldin Hills Skins Shootout! Results are shown below.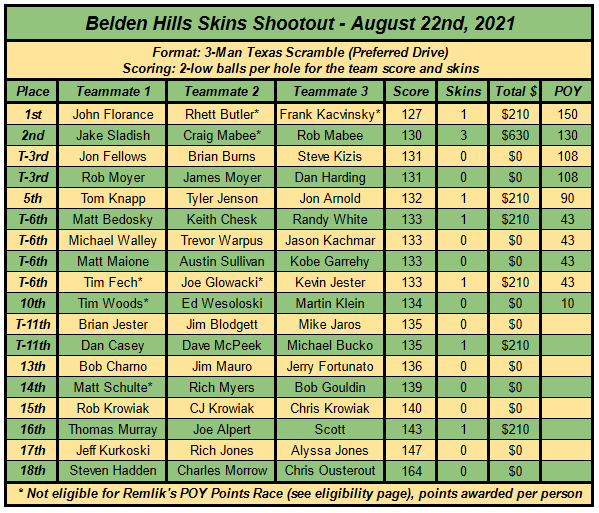 When: Sunday, August 22nd, 10:00 AM Shotgun
Where: Belden Hills Golf Club
Format: 18 holes, 3-Man Texas Scramble Event – All 3 players will tee off, the best tee shot is selected and from there, the players play their own ball to the bottom of the cup. Teams will keep 2 LOW SCORES of the 3.
Entry Fee: $210 per team, 50% of the entry will go to the skins pool!
The Entry Fee is to be paid on-site at Belden Hill Golf Club.
Eligibility: Amateurs and Local Golf Professionals, limit one professional per team.
Note: In addition to the Skins Shootout, there will be an optional $30 per team pool for low team score for the round.
Note: Female participants are welcome to play including on mixed teams; however, there will be only one skins game / optional prize pool. Female participants may also play the course's "ladies" tees.

This event awards Player of the Year Points (click here for more info)
Registration is closed for this event.