Event Page for the Scoville-Meno TCGA Junior Tour's CHAMPIONSHIP event of the 2023 season, hosted by Binghamton Country Club! Results:
Thank you to Binghamton Country Club, their staff, and PGA Professional Rick Keding for hosting the championship! It was a pleasure to finish off the Scoville-Meno TCGA Junior Tour season at BCC again this year.
Thank you to all the parents and participants for playing in this year's events! We hope you enjoyed the competition and great golf courses. We always welcome any feedback you may have about the Junior golf season.
Lastly, a huge thank you to TCGA Junior Tour Coordinator Matt Morley for all of his work behind the scenes scheduling these tournaments and making tee times, to TCGA Junior Tour Administrator Rob Mabee for his incredible work each tournament day on-site at these events with the junior golfers, and to the TCGA's Junior golf sponsor: The Scoville-Meno Family of Dealerships whose year-after-year support and generosity continues to grow the game in the Triple Cities.
Results:
Congratulations to the 2023 Scoville-Meno TCGA Junior Tour Championship Medalists!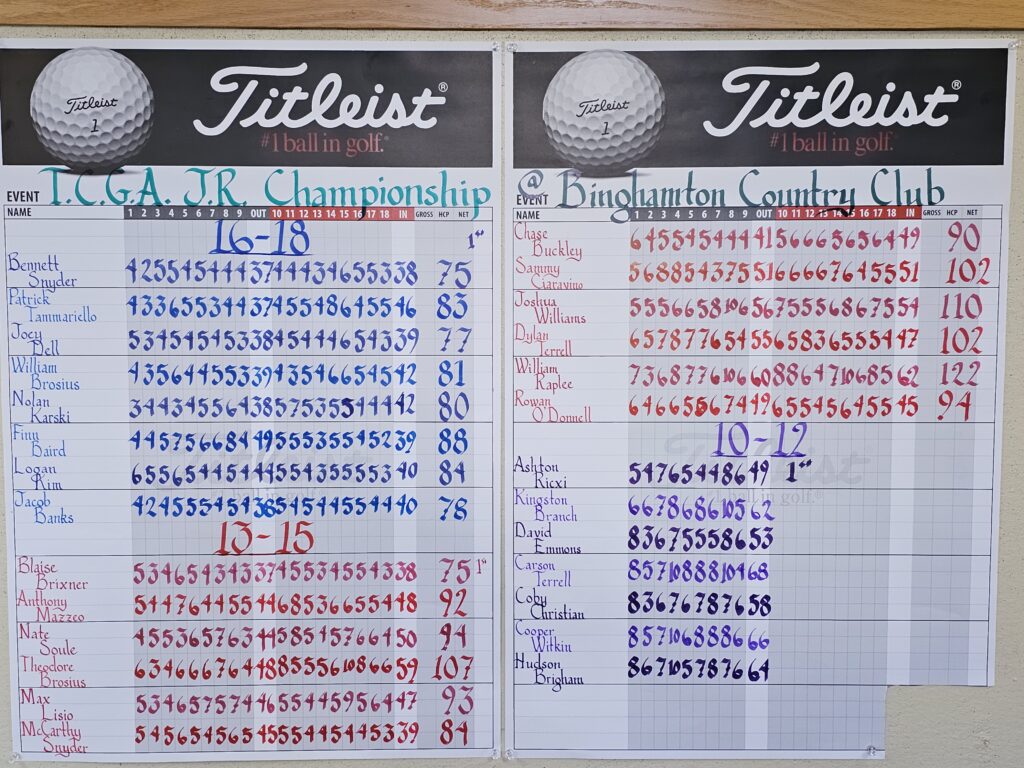 10-12 Age Group
Congratulations Ashton Ricxi on his 1st place finish today! Ashton shot 49 on 9-holes, which was 4 shots better than 2nd place David Emmons (53) and 9 ahead of 3rd place Coby Christian (58).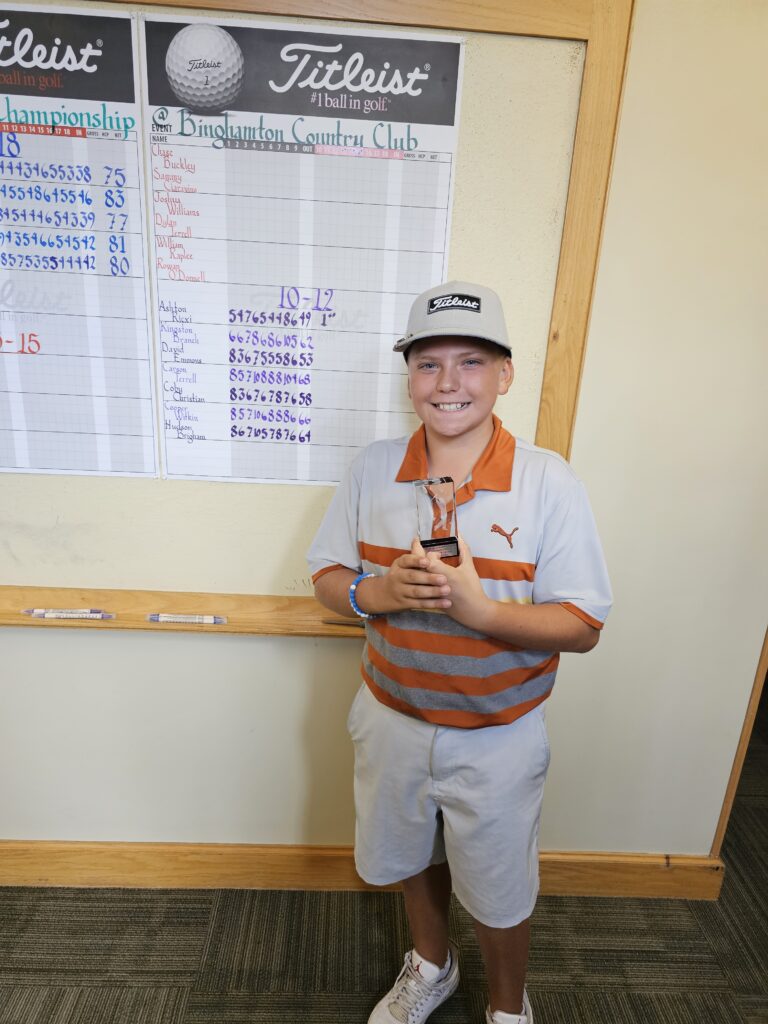 13-15 Age Group
Congratulations Blaise Brixner on his 1st place finish today! Blaise shot 75 (+4), which was 9 shots better than 2nd place McCarthy Snyder (84) and 15 ahead of 3rd place Chase Buckley (90).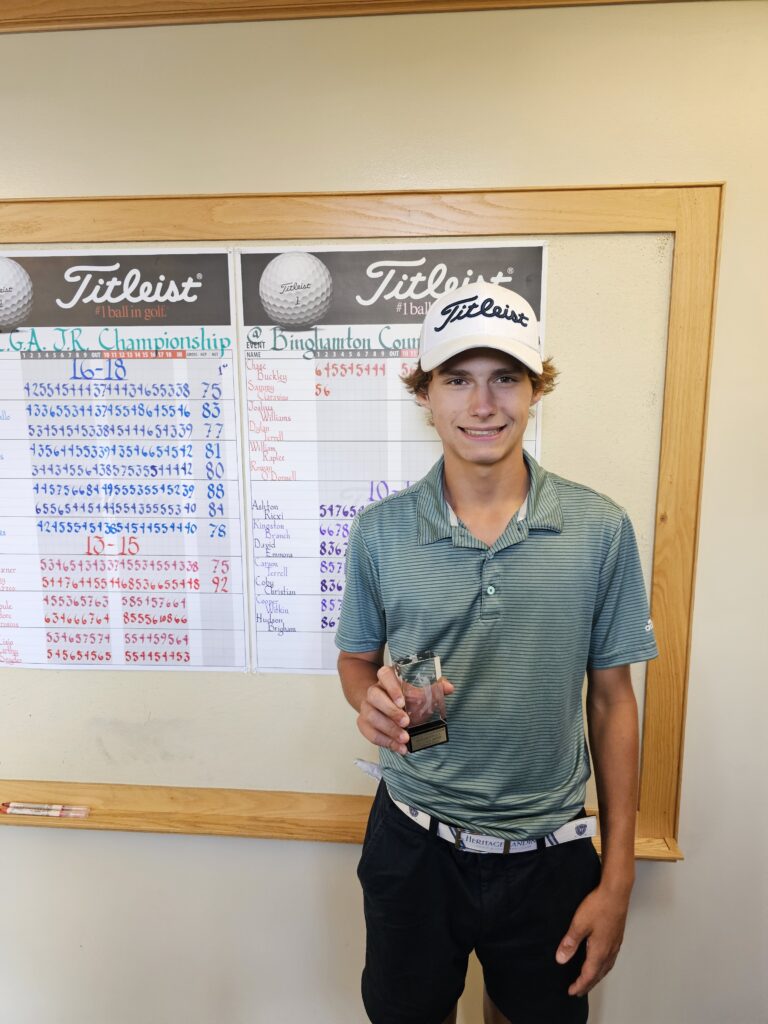 16-18 Age Group
Congratulations Bennett Snyder on his 1st place finish today! Bennett shot 75 (+4), which was 2 shots better than 2nd place Joey Dell (77) and 3 ahead of 3rd place Jacob Banks (78).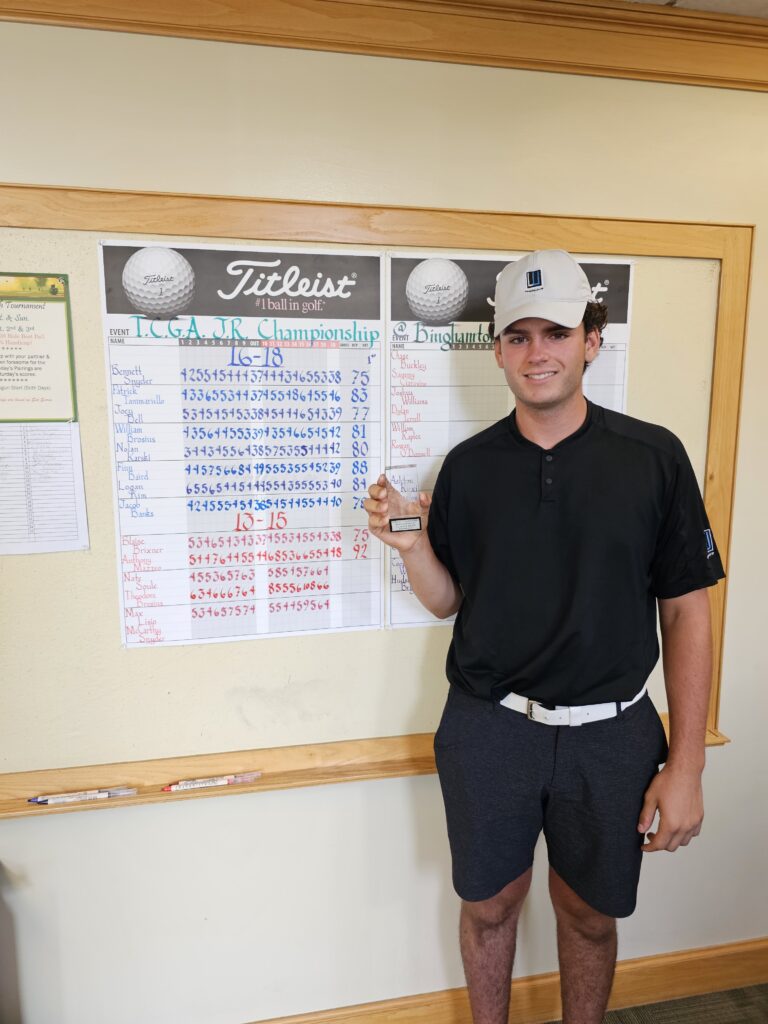 Thank you to all who made the 2023 Scoville-Meno Junior Golf Tour season a memorable one!
When: Monday, August 7th
Tee Times: Beginning at 8:00AM
Where: Binghamton Country Club
Format: Individual Stroke Play
---
Age Divisions:
10-12 years old (9 holes)
13-15 years old (18 holes)
16-18 years old (18 holes)
Entry Fees:
13-15 & 16-18 age groups – No charge
10-12 age group – No charge
The Entry Fee is to be paid on-site at Binghamton Country Club in cash.
Eligibility: Junior golfers ages 10 to 18 at the time of the tournament.
The Junior Tour Championship field may need to be limited based on participation. The committee will make any decisions regarding the reduction of the field.
---
Double Par Rule:
All participants will take a score no higher than double the par on a given hole.  For example, if the hole is a par 4 the golfer cannot take a score higher than 8.  If a golfer is on his/her 8th shot he/she simply will pick up their ball and help the other participants finish the hole. This is to speed up pace of play.
---
Tee Times:
Tee Times will be posted on the TCGA website sometime 1-2 days prior to the tournament.  Please make sure you are aware of your tee time and arrive at the course 30 minutes prior to it.
---
Registration is Closed for this event.
Registration questions may be sent to [email protected].