Event page for the TCGA's first Fall Round-Up Event for the 2023 season, hosted by Binghamton Country Club!
The final results (click here) are now posted for the TCGA Fall Round-Up #1.
Congratulations to Team Surdey and Griffiths on a great round of 66 (-5) today, 3 shots clear of second place!

GHIN Posting
Rounds NOT posted to player's GHIN Handicap, players must do so manually.

Prizes
Pro Shop Credit prize money will be available in the Binghamton CC Pro Shop starting tomorrow. Skins money is also available for pickup during regular pro shop hours.
Remlik's Player of the Year Points
The Points List will be updated soon, the points allocation is listed on the leaderboard. If you believe you meet the eligibility requirements (click here) and did not receive points, please email [email protected]. The Fall Round Up next weekend at En-Joie will be the last event of the year!
Thank You
Special thank you to Rick Keding and the rest of Binghamton Country Club staff for hosting us today!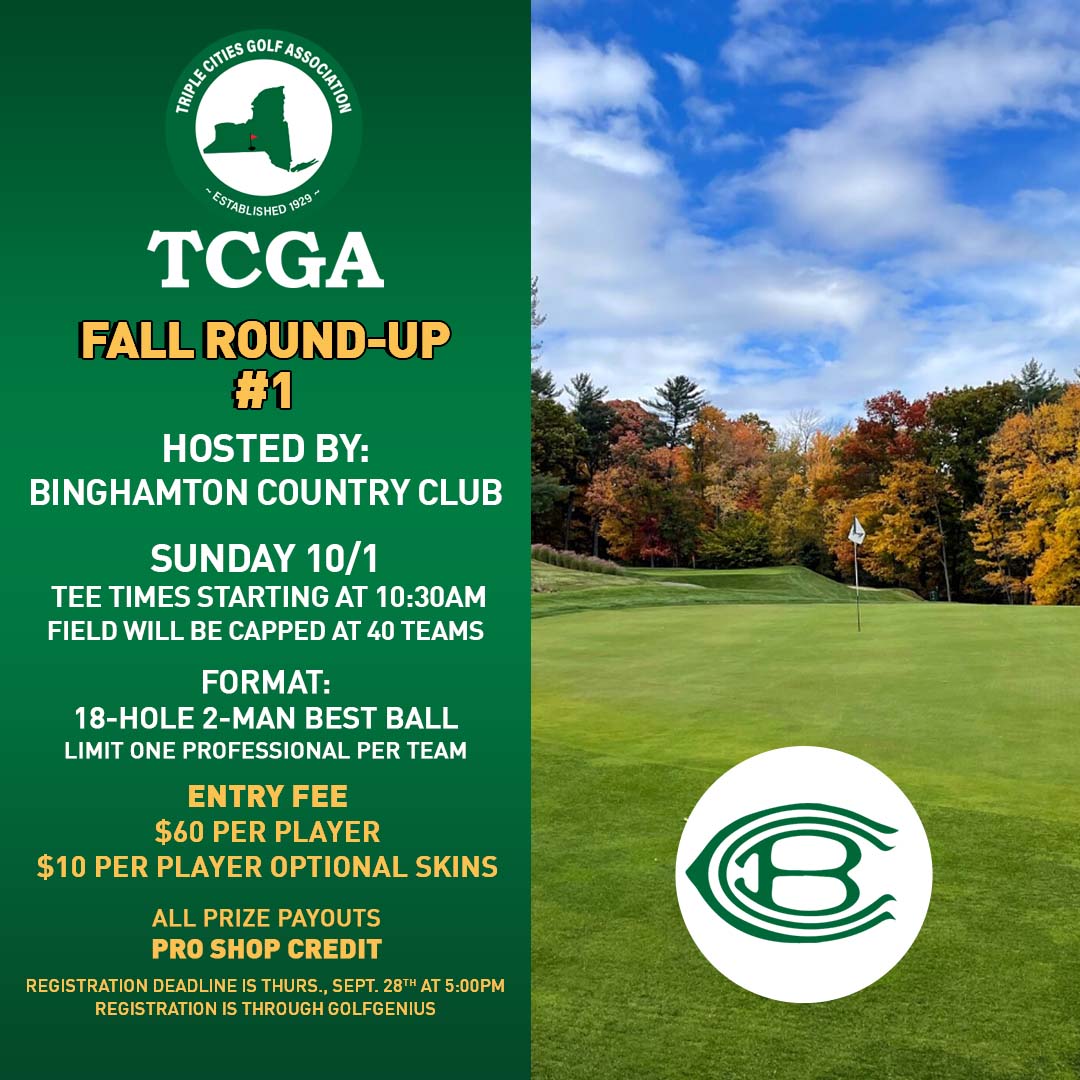 When: Sunday, October 1st
Tee Times: Starting at 10:30AM
Where: Binghamton Country Club
Format: 18-Holes Two-Person Best Ball
Entry Fee: $60 per player, $120 per team. $20 per team optional skins to be paid on-site
The Entry Fee is to be paid through Golf Genius upon Registration. Entry fee includes greens fee, cart fee, Pro-Shop Credit prize pool, and skins game.
Eligibility: Amateurs and Local Golf Professionals, limit one professional per team.
This event awards Remlik's Player of the Year Points (click here for more info)