Remlik's Grille and Oyster Bar will once again be sponsoring $1000 in gift cards for the top 10 golfers in the 2023 Remlik's Player of the Year Race! The gift card prize payouts are shown below along with how to earn points and golfer eligibility for the Remlik's Player of the Year Race.
1st Place – $250
2nd Place – $200
3rd Place – $150
4th Place – $100
5th-10th Place – $50 each
Thank you to Remlik's for your continued support of the TCGA!
---
Points System

Additionally the Harding Brooks Insurance TCGA Amateur Championship awards:

19th – 20 pts 
20th – 10 pts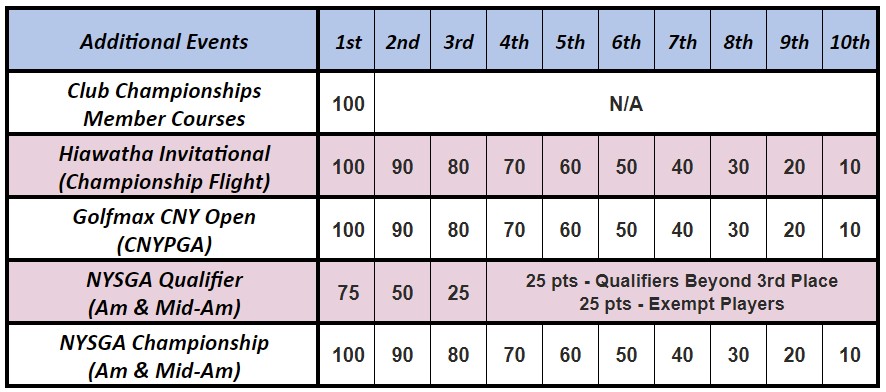 Eligibility and other Notes
Participants must be a resident of a TCGA county or a member of a TCGA Member Course to be eligible for Player of the Year Points.

Participating Professionals are not eligible to receiver Player of the Year Points.
For any individual event that has Amateur and Professionals such as the Stroke Play Series or the CNY Open, points will be given based on your standing among all players in the field.
For flighted events such as the Hiawatha Invitational, points will only be awarded for teams in the Championship Flight (or equivalent) of the event.
For all Club Championships, only the winner of the event will be awarded the 100 points and the club must be a member of the TCGA.
For NYSGA Amateur Championship Qualifiers, all participants who qualify in 3rd place or beyond will receive 25 points. Exempt players will also receive 25 points for the qualifier.
TCGA team events points are per each team member.
All points will be awarded based on placement in the field. All ties will be split and the points will be rounded up to the next number. For example, if 3 people tie for 20th in the TCGA Amateur, each player will receive 4 points rather than 3.33 points.
Tiebreaker: Ties for the Player of the Year will be decided by:
1. Finish in this year's Harding Brooks Insurance Agency TCGA Amateur
2. Number of TCGA Hosted Events Played (Most Events Wins)

Please contact the TCGA at 

[email protected]

 regarding any issues regarding points you may be entitled to receive that may have been mistakenly overlooked.